Location
Remote via Zoom Link
Raleigh, NC 27615
Call/text me
+1 (601) 606 5906
Email me
michelle@best-tutors.com
Hours
Varies (see my Calendar link)
How to Get on my Schedule
I use Calendly.com to allow my students to schedule and reschedule sessions as needed. YOU MUST FILL OUT THE STUDENT INTAKE FORM ABOVE BEFORE GETTING ON MY SCHEDULE. There are 2 event types available.
Option 1 (purple dot) allows you to pay directly through the scheduler via Stripe. There's a $3 convenience fee that goes directly to Stripe. You have a choice of 1 hour for $100 + fee or 30 min for $50 + fee.
Option 2 (light blue dot) you MUST PrePay for your sessions via Venmo (@Michelle-Myers09) at the time of booking. See the QR code provided below. One hour is $100 and 30 min is $50. Most students choose to purchase a 4 hour package for $375. With a package you will use the PrePaid event type, and sessions can be scheduled in 30 min or 1 hour increments. I will keep track of time used.
Payment Types
I can accept payment via PayPal, Zelle, CashApp, or whatever new thing I need to get to make life easier for my students and parents. However, parents are responsible for paying any fees that are charged for using the service. PayPal is no longer allowing "Friends and Family" as a free way to send money for business accounts. so there will be a 3% fee.
Venmo is my prefered payment method. See QR code below.
Refund Policy
I don't offer any refunds for prepaid sessions. but they can be used until the end of the school year for any math tutoring or even ACT/SAT prep or used by siblings. All packages expire at the beginning of the next school year, no later than Sept 1.
Venmo is my prefered payment method. Here's the QR code:
Package of 4 hours is $375
1 hour is $100
30 min is $50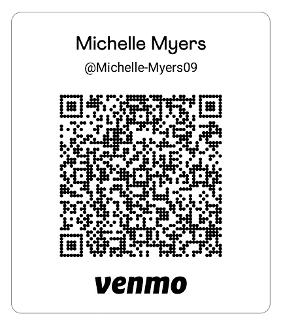 Stripe Payments for Credit Cards
If you need to pay via credit card, or if you prefer the protection of using Stripe, there are 2 button links below for that. Look for emails from michelle@best-tutors.com with promotion codes to use for any sales I may run on packages. There is an additional $10 processing fee to cover Stripe's fees.
The 1st button link is to Stripe for a ONE-TIME charge of $385 for a 4 hour package, ideal for students who meet with me sporadically.
The 2nd button link is to Stripe for a RECURRING monthly charge of $385 for a 4 hour package, ideal for ongoing weekly sessions.